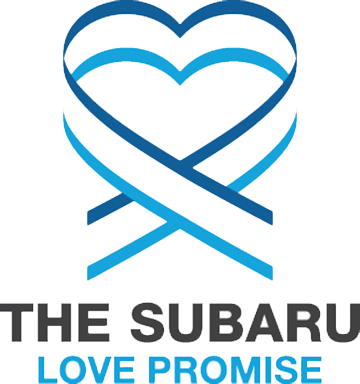 What is the Subaru Love Promise?
Subaru and our retailers believe in making the world a better place and the Subaru Love Promise is our vision of respecting all people. This is our commitment to show love and respect to our customers and to work to make a positive impact in the world.
How is Kendall Subaru dedicated locally to the Love Promise?
Our Love Promise can be seen in various partnerships with local charities and non-profits. We're grateful for the opportunity, not only to be a part of our community, but to serve it as well.
Shelter Care, Christmas for Kids
Food for Lane County, March of Dimes
Love Promise Stories from Kendall Subaru
Subaru and Kendall Subaru believe in making a positive impact on the communities in which we live and work. We uphold that belief through our Love Promise Community Commitment. Every month, we select inspiring stories from customers and partners from around our area who strive to support our collective commitment and feature them here
Caring - Tim F
My 2019 Subaru had been stolen and totaled. My insurance company was making the process very difficult. Kendall Subaru in Eugene genuinely cared about my circumstance. They not only helped me get a new car (thanks Tim!) but gave me a loaner vehicle while I waited the 2 months to get it (my car insurance only allowed me a rental for 3 weeks and I was in a tough spot and they understood that and took care of me). The quality of transparency, communication and devotion they showed me was incredible. They truly care about their customers and it shows. Thank you to EVERYONE at Kendall Subaru of Eugene!! E Speilbe
---
Fun & Fit Kids Summer '21 - Bev S
Kendall Subaru has been a generous partner with KIDSPORTS for many years. Kendall Subaru sponsors our Fall Soccer Program that helps 3,000 children, aged K - 8th grade to play and have fun while learning soccer and movement skills. Kendall Subaru's generous sponsorship helps KS to achieve our mission of "All Kids Play;' which means that regardless of your athletic ability to play, or your families ability to pay, we find a way. KS never turns away a child who desires a chance to play. In the Spring of 2021, Kendall Subaru and their Subaru Share the Love Program delivered an unexpected but most incredible gift to KS: a $16,657.00 check! Wow! What a generous, significant, and timely gift in the midst of a world pandemic. This gift not only provided us with assistance to keep kids playing and having fun in our traditional team sport, it also and directly allowed us to expand and reach even more kids through two new programs: Fitkids and PE Fusion! These two programs have been critical in serving the needs of children who have not been able to get regular exercise and activity as a result of the pandemic that kept many families and kids in isolation and without any outlet for activity and socialization. Fitkids is a program for 18 months to 3 year olds and PE Fusion for K - 5th grade and both programs have made an incredible difference in the physical, social, emotional, and mental health and well being of our kids and families. Subaru's Share the Love program has been a critical partner in allowing our organization to keep kids playing and having fun when they need it the most. We would not have been able to extend our reach to many of these kids without Kendall Subaru's Share the Love Program. It has helped us to keep "all kids playing," through this challenging, every changing, and chaotic time. Thank you for helping us to give kids a chance to once again be kids and to enjoy the gift of play! #SubaruSharetheLove # AllKidsPlay
---
Kendall Helps Kids and Families in Crisis - Matt S
Kendall Subaru has been a champion for youth at the Boys & Girls Clubs of Emerald Valley for six years. They sponsor and support the lives of thousands of vulnerable kids in our community by investing time (Amy Newport is an amazing Board Member) and resources to provide local kids the opportunities and support they get at the Boys & Girls Club. In January of 2020, Kendall Subaru announced their decision to direct the funds they raised ($22k) during the Share the Love event to benefit 500 kids at the Boys & Girls Clubs of Emerald Valley. Little did we all know how critical that support would be as the COVID pandemic changed everything that March. Thanks to the investment and support of Kendall Subaru, the Boys & Girls Club was able to safely open it's doors for all-day service (7:30am to 5:30pm Mon-Fri) starting in June 2020 and continue service for 70 youth for the 2020-2021 school year, when all public schools were closed. Kids and families were in crisis and needed help. Working parents needed a safe place for their child to be while they worked and kids needed help with online school and internet access, just to attend school. Thanks to the partnership with Kendall Subaru, the Boys & Girls Club was able to provide 10 deserving families full scholarships for the entire 20-21 school year for 12 children that could not attend without the financial support. Every child in our community was in need of support for school, especially the twelve children receiving these scholarships. Without coming to the Club they couldn't access their online classes, get help with their assignments, read or understand much of the instructions, and would have missed the encouragement they needed to make the best with online learning. These same twelve kiddos also benefitted from having a nutritious breakfast and lunch provided to them everyday while at the Club to ensure they could focus on school. In addition to helping kids with online school and keeping them well fed, Club staff also helped kids process the challenges of life in a pandemic and helped give kids opportunities to get away from a screen and get physically active while spending time with other kids. The elements of a successful child begin with that child feeling loved and supported by a caring adult, especially during a time of crisis. Thanks to the ongoing support from Kendall Subaru twelve amazing and grateful kiddos had access to a lifeline and programs that inspired and empowered them in their biggest time of need and allowed their parents to work during the pandemic. The Boys & Girls Clubs of Emerald Valley and all of it's members are so grateful for the partnership with Kendall Subaru. Together we are helping kids be GREAT, especially those that need it most.
---
Subaru Loves Pets and helped find Hezzie a home - Cary L
The Holiday Farm/McKenzie Fire blazed through parts of Lane County, OR and Greenhill Humane Society was a first responder for the animals and the families who love them. Hezzie was found in the evacuation zone and brought to Greenhill to receive medical attention with hopes he would be reunited with his owner. Shortly after his owners came forward, they made the tough decision to surrender him to the shelter. Hezzie had sustained a severe injury to his right eye causing him pain. Greenhill's veterinary team removed the eye and gave him a clear path to recovery. Once he was feeling better, Hezzie became very affectionate and is now a perma-winking cat. Greenhill put Hezzie up for adoption during the Subaru Loves Pets adoption month. It wasn't long until his perfect family saw a photo of him during the promotion. They came to the shelter and instantly connected and he went to his forever home that day! His family shared, "He's doing GREAT; he's become super confident and comfortable and is just as cuddly as ever! I'm so happy to have gotten the chance to meet him! Thank you all so much!!" Thank you, Kendall Subaru, for helping heal Hezzie and helping to find him a perfect home.
---
Thank You Notes from Meals on Wheels Client - Amber F
"I get a great sense of security knowing someone will check on me at some point. Or the driver might call the office and tell them I am not answering my door for my meal like I usually do.That's very reassuring! And I have enjoyed every meal I have gotten!" "The Meals on Wheels program has broadened my healthy food choices improving my health! The program has referred me to the farmers market of fresh produce with I intend to use next spring/summer! I was also happy to know of the senior dining rooms" Meals on Wheels doesn't just deliver lunch to seniors, we connect them with other programs and resources in our community. Our Meals on Wheels Program in Eugene, Oregon partners with the local Senior Grocery Program to deliver a monthly delivery of free groceries to qualifying low income seniors. Having a reliable vehicle like our Subaru, allows us to efficiently deliver both groceries and hot meals at the same time. The picture shows how we take full advantage of the spacious interior of our Subaru.
---
Subaru Connects Seniors - Rozlyn F
Antone is a new Meals on Wheels recipient. For 32 years she worked at the DMV and was the third female driving examiner in Oregon. She was also a Subaru owner. After a debilitating stroke, Antone's life changed significantly. Antone had lived independently all her life and suddenly found herself unable to drive and in need of assistance with meals. Regretfully, she had to sell her own Subaru. She was able to sell it to her nephew, which took some of the stings out of the situation. When her meals were delivered out of the Meals on Wheels Subaru, she expressed her surprise and gratitude that Subaru had come full circle for her and was now keeping her connected to the community in a different way. Antone says, "I loved my car! I love Subaru's and it makes me so happy to see that Subaru is helping in this way - what a beautiful car!"
---
Fern Expresses her Gratitude - Rozlyn F
Fern was the very first client to receive a meal delivery from the Meals on Wheels 50 cars Subaru in Eugene, OR. Fern is homebound and doesn't have the mobility even go out to her driveway, but she can see outside to watch the cars come and go. When she saw the car with it's distinguished wrap, she immediately wanted to know what the car was all about. After the delivery driver explained the donation to the Meals on Wheels program she receives her meals from, Fern was so excited. She said, "Wow! We have to tell them how grateful we are! I say we because even though I'll never even sit in the car, this car is going to help me get my meals! It's really a donation to all of us!"
---
Meals on Wheels Delivers Despite Winter Weather - Rozlyn F
This year, Rozlyn Fox, the program manager for the Meals on Wheels program in Eugene, OR had a lot of car trouble and found herself with a two wheel drive vehicle throughout the worst of the winter weather we experienced in Eugene. Rozlyn was still able to help out on routes because of our program's amazing AWD 2018 Subaru Outback, which was donated by Subaru of America this fall. One day Rozlyn was delivering in Eugene's South Hills and almost every client she delivered to said, "Oh, I didn't think you would be delivering today in this weather!" Rozlyn was able to point the Outback and say, "It's no problem!" Our program was able to deliver meals, smiles and peace of mind to the homebound seniors in our community through the whole winter with no closures or route modifications due to the help of our new Subaru. Thank you, Subaru of America, for the incredible donation!
---
Delivering Meals, and Peace of Mind - Rozlyn F
Hi! We are Debbie, Roz and Kelli, and we are the staff of Eugene, Oregon's Meals on Wheels program. We are the proud recipients of one of 50 donated 2018 Subaru Outbacks. As staff members, we go out and deliver food whenever we are short handed on volunteers. With 17 routes going out five days a week, this means that (almost always) at least one of us is out on the road every service day. Before,when we would go out to deliver food, we were using our own vehicles because until now, our program has not had specific Meals on Wheels vehicles available to us. The lack of program specific vehicles has created a hardship for all of us. We are dedicated to serving the seniors in our community, but have been frustrated by all the wear, tear and miles we put on our personal vehicles. If one of our cars breaks down, it is panic inducing because we know we need our cars for our job. Now we have this beautiful 2018 Subaru Outback that we can use when we go out to deliver meals. This car enables us to deliver meals in style. When we show up to a client's home, they look out the window and immediately know "lunch is here!" On days when it is icy or snowy, we have no doubt that we will still be able to reach our clients who are tucked away up in the hills. This vehicle really brings peace of mind to our program, our clients and their families. Thank you, Subaru!
---
Kendall Subaru Supports Hunger Awareness Month - Amy N
Kendall Subaru is supporting Hunger Awareness Month in June! In addition to all Kendall employees volunteering their time to sort and prepare food at the Food for Lane County warehouse & kitchen, we are hosting a food drive all month long to support Food for Lane County's Summer Lunch Program. Unfortunately, many children in Lane County rely on their school lunch for a daily meal. The Summer Lunch Program provides a free lunch for those who might not have it otherwise. Our employees and customers helped our food drive by donating these high need items: peanut butter, tuna, canned fruit, canned vegetables, fruit juice boxes, raisins and crackers.
---